The Rossio Square, which is the way locals of Lisbon refer to the historical Praca de Dom Pedro IV (called this way in the honor of Pedro IV, both king of Portugal and Emperor of Brazil) in the Baixa district, is one of the most frequented public squares of Lisbon and, simultaneously, one of the most popular from a tourist point of view. It is centrally pegged out by the 27-meter high statue of Dom Pedro IV, a monumental structure surrounded, at the base, by four allegorical statues which, while depicting four feminine figures, materialize in an artistic manner the values of Strength and Moderation, Justice and Wisdom.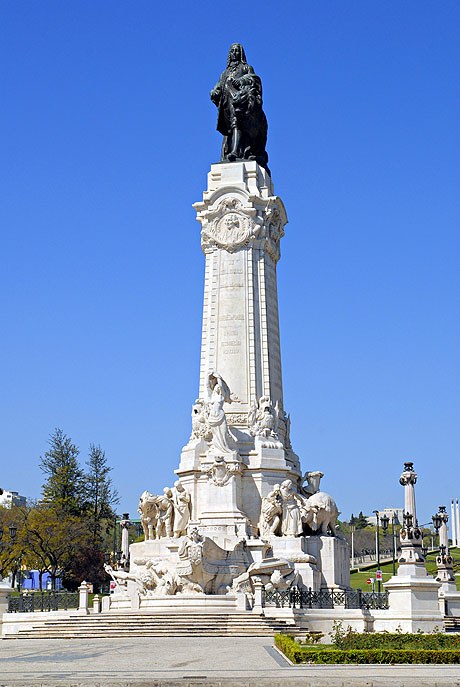 The Statue of Dom Pedro IV in Rossio Square, Lisbon
This is, however, but one of the decorative elements of this historical square of Lisbon. Other highlights in this respect refer to two baroque fountains located on two sides of the square, as well as to the 19th century cobblestone pavement designed in wave patterns, as the trend of the time dictated at the moment. The Dona Maria II National Theater borders the north side of Rossio, bringing a plus of excellence to the architectural merits of the square. The theater was built on the very site where the Estaus Palace, the historical seat of the Portuguese Inquisition, used to be located. Damaged beyond repair during the 1755 earthquake, the former palace gave way to the construction of the said theater in the mid 19th century.
The Rossio Train Station is also located in this square, dominating the Rossio Square with its neo-Manueline facade. There are also plenty of cafes, some of them dating back to the 18th or to the 19th century, where tourists and locals alike gather and relax, continuing, thus, the tradition according to which Rossio has been one of the most popular meeting places of Lisboners since the Middles Ages until now.
Name:

Rossio (Praca de Dom Pedro IV)

Address:

Rossio, Lisbon, Portugal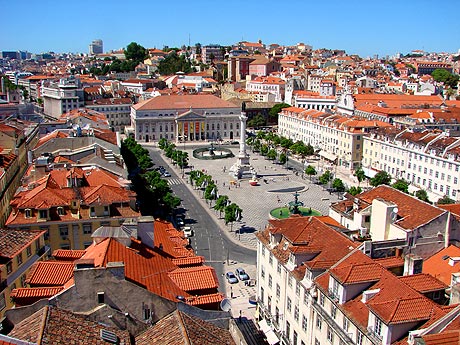 Panoramic View of the Rossio Square in Lisbon