Praca do Comercio, which literally means the Commerce Square, is otherwise referred to as the Palace Square (Terreiro do Paco), a name which calls forth the location of this site near a former royal palace which was destroyed by the 1755 earthquake. The square was built by order of the Marquis of Pombal who, for that matter, was retained by the local history for its great contribution to the rebuilding of the city of Lisbon after the historical cataclysmic incident of the mid 18th century.
The architect in charge with designing the square was Eugenio dos Santos, a Portuguese architect who conceived the new public venue in the shape of letter "U", with the opening towards the Tagus River. The name of the square indicates economical function of the venue, which is no surprise, given its location in the very proximity of the river, one of the main commercial hotspots of Lisbon. On top of these details, Praca do Comercio remains, aesthetically speaking, one of the most spectacular squares in Lisbon.
Indeed, mostly built virtually immediately after the implementation of Eugenio dos Santos's designs, the square underwent few modifications in time, in particular in respect to its decorative patrimony. Thus, of note is the triumphal arch placed on the north side of the square, called Arco da Rua Augusta (it bears the name of the street on which it is located). Designed by Verissimo da Costa, the monument was inaugurated in 1875, being is decorated with a clock, several allegorical statues (Glory, Ingenuity and Valour) and several other sculptural works which depict the figures of the likes of the Marquis of Pombal, Nuno Alvares Pereira and Vasco da Gama.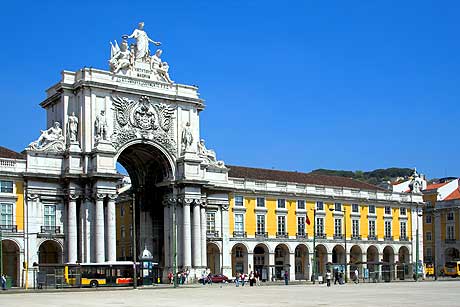 Arco da Rua Augusta in Praca do Comercio, Lisbon
However, the most eye-catching decorative landmark of the square refers to the centrally placed statue of King Jose I on horseback. The statue was inaugurated in 1775, and it is one of the most exquisite works of Joaquim Machado de Castro, a notable Portuguese sculptor of all times. From a historical point of view, the importance of the square also lies in the fact it is the site where Carlos I, one of the last kings of Portugal, was assassinated, together with his heir to the throne, Luis Filipe (in 1908).
From a tourist point of view, also of note is the fact one of the most celebrated cafes in Lisbon, the historical Café Martinho da Arcada, is located here. The cafe opened in 1782, and it is renowned for having been the meeting place of the literary elite of Portugal, being a favorite of Fernando Pessoa, Eca de Queiroz and Almeida Garrett. The Welcome Center of Lisbon is also located in Praca do Comercio, which is an ascertainment of the tourist worth of the square. The venue is located in the very proximity of the Baixa district of Lisbon.
Name:

Praca do Comercio (Commerce Square)

Address:

Praca do Comercio, Lisbon, Portugal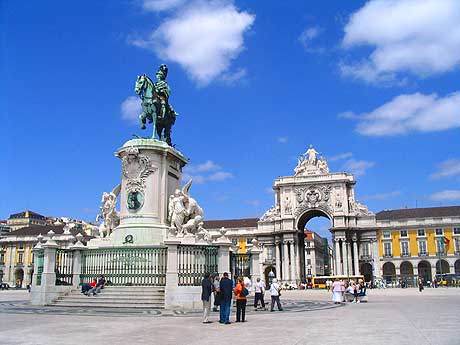 Praca do Comercio in Lisbon