The Castle of Saint George is one of the oldest edifices in Lisbon and, by force of its historical background, one of the most prized tourist sights in the capital of Portugal. The castle is located in the Alfama district, on the highest hilltop of Lisbon, meaning it provides the best panoramic views of the city. It is generally deemed part of the patrimony left from the Moors, though the site had been previously filled by fortified structures erected and reinforced by the Romans and the Visigoths.
The castle used to be the residence of the Moorish royal faces until 1147 when it was conquered by Afonso Henriques, the first king of Portugal, in the wider context of the Christian crusades. The king enjoyed the help of the north European fighters, in particular of the Englishmen, which is why the castle was named after Saint George, the patron saint of England (the long lasting diplomatic relationship between Portugal and England attained one of its peaks during the Anglo-Portuguese pact in 1371). After being reclaimed from the Moors, the castle became the residence of the kings (Alcacova in Portuguese) of Portugal, a function it kept until the construction of the Ribeira Palace (which became the new royal seat), commissioned by King Manuel I during the 16th century. One of the chambers was regularly used to accommodate Vasco da Gama during his stays in Lisbon, after his returns from the sea voyages.
Since then, the castle entered a long period of decay, losing its importance. The 1755 earthquake damaged it considerably. What remains of the historical structure is the main walls of the fortifications, several rebuilt rooms (of which one, Casa Ogival, shelters the so called Olissiponia, a multimedia show which recounts the history of Lisbon, with an emphasis on the most important historical moments: the Inquisition, the great earthquake and the like) and 18 towers, of which the most visited is the Tower of Ulysses (former shelter of the Torre de Tombo archive, now accommodating Camara Escura, a periscope which gives visitors the opportunity to enjoy a 360-degree panoramic view of the city).
Given its tourist importance, the castle is also home to a restaurant. It can be best reached by taxi, and trips on foot are recommended only to people used to physical strain. But regardless of the means of access, the Castle of Saint George is a rewarding tourist sight, a place full of history and an attraction not to be missed out by visitors of Lisbon.
Discounts are available for sundry age and profession categories.
Name:

Castle of Saint George (Castelo de Sao Jorge)

Address:

Alfama District, Lisbon, Portugal

Telephone:

00351 218 800620

Email:

Website:

Opening hours:

1st November to 28 February: 9am to 6pm; 1st March to 31st August: 9am to 9pm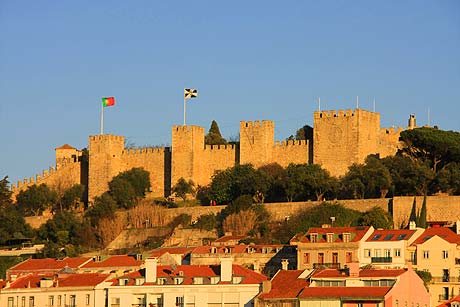 The Castle of Saint George in Lisbon