Despite the fact the Monument to the Discoveries is not a historical monument proper, it does call fort one of the most thriving historical ages of Portugal, that is, the age of the great geographical discoveries, when Portugal would dominate the sea trade between the continents. Indeed, the so-called Padrao dos Descobrimentos was erected in 1960 on the north bank of the Tagus River, observing the design of architect Jose Angelo Cottinelli Telmo (and then of Antonio Pardal Monteiro) who, some 21 years later, was commissioned to erect a monument of this kind for the 1940 World Fair. The sculptor in charge with adorning the structure was Leopoldo de Almeida.
Initially, the Monument to the Discoveries was located in Praca do Imperio, but after its dismantlement in 1943, the north bank of the Tejo was chosen as location of the new replacing monument the construction of which was decided in 1958. The new monument was also intended to commemorate 5 centuries from the death of Infante Henry the Navigator.
The monument is decorated with motifs which call forth the age of the great discoveries, seafaring motifs and armillary spheres included. On top of the fact the monument stands out in sharp relief by its dimensions, it catches the eye by the 34 statues which decorate the two sides. The main statue is the one which represents Henry the Navigator, while other figures rendered are important personalities who, one way or another, have contributed to Portugal's reputation in the age of discoveries: poets, explorers, navigators, crusaders, and mapmakers, with key figures like Vasco da Gama, Magellan, Felipa of Lancaster and Camoes.
The interior of the monument is divided in three levels. The ground floor contains an auditorium (with multimedia exhibitions which cover the topic of Lisbon's history), the second floor accommodates two exhibition halls, and four other rooms are located on the third floor. The top of the monument is often used as watchtower, since it offers great views of the Belem district (the Belem Tower and the Jeronimos Monastery included) and of the Tagus (Tejo) River.
Name:

Monument to the Discoveries (Padrao dos Descobrimentos)

Address:

Avenida de Brasilia, Lisbon, Portugal

Opening hours:

daily (except Mondays): 10am to 6pm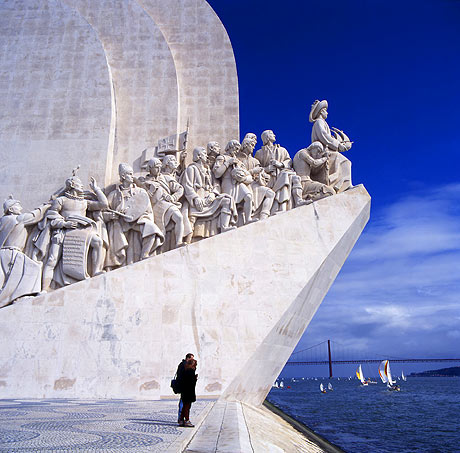 The Monument to the Discoveries in Lisbon